I know…the title is a bit contradictory – but hear me out.
We have family members who would love to give our boys a gift this Christmas. And I have to admit, I don't want to take that away from them. I want them to be able to give our boys something special – it may even be something our boys grow to fondly remember years down the road.
I'm the first to threaten to throw the next toy through my door straight into our donation bin – but I've decided to be a bit flexible this time of year.
We're raising our boys with important morals and values. We're raising them to understand the true meaning behind this magical holiday season and all that comes with it. With that being said, I've put together a list of vetted toys that I will allow to enter our home.
If you're looking for a list to pass along, this may suit your criteria the way that it suits mine.
Music
The Melissa and Doug Learn-to-Play Piano.
We're huge fans of music in our home, and our living room often transforms into a dance floor. When I was a kid, my favourite Christmas gift and past time was playing the piano. This colorful upright piano features 25 keys and two full octaves. The littlest musicians will enjoy exploring concepts of high and low notes, loud and soft. More experienced "maestros" can follow the color-coded songbook to learn nine child-friendly favorites!
Melissa and Doug Band-in-a-Box
Again, music. I'm supportive of all things music in the home (as long as it's not drums). I think it's a wonderful way for our kids to express themselves – and this Band in a Box musical instrument set has everything preschoolers need to form a kids' marching band, launch a solo career, or just enjoy exploring music and sounds! The set includes a tambourine, cymbals, maracas, clacker, tone blocks, and a triangle, plus a sturdy wooden storage crate. Strike up the band and spark a lifelong love of music with this unique wooden set of wooden instruments.
Imaginary Play
Melissa and Doug Let's Play House! 
Okay – can you tell that I love Melissa and Doug yet? Their toys are durable and made from wood and designed to spark imagination and wonder. They're really some of my favourites. This adorable little cleaning set is one of the top items on our list. Our two-year-old loves to help me clean and while I have no problem handing him the vacuum, there are some chores that should be left for mum and dad. This six-piece play set gives kids all the housekeeping tools they need to keep it clean! Sized just for kids and built to last, the broom, mop, duster, dust pan, and hand brush are comfortable to use and easy to store–just hang them from the sturdy cords onto the included stand for neat, compact storage. (The dust pan can also snap onto any of the handles.) Natural-wood handles add durability and a classic look; bright pops of color keeps lots of fun in the mix!
Developmental
Perfect for developing fine motor skills (and super affordable), this wooden set contains five sturdy, double-sided lacing panels, plus five color-coordinated laces! Develop hand-eye coordination and attention skills with this great activity.
Again, our two-year-old really loves to figure out how things work. He's in this phase where he likes to take things apart and put them back together again. To keep him from taking a door off of its frame, we've put this construction set on our wish list. With 48 wooden pieces (including nuts, bolts, drilled bars to connect, and a child-size screwdriver), this classic building set gives kids all they need to tinker and build! Printed right on the sturdy storage box are building plans for a crane, motorcycle, airplane, and race car to get the fun started. With some imagination and a few creative twists and turns, kids can make hundreds more amazing structures, too! Any time kids play with this durable set, they'll be building fine motor skills, problem-solving skills, and hand-eye coordination. Included extension activities guide parents to educational activities that also build early math skills.
Outdoor
Okay – this one is pricey – but if some family members wanted to go in on this together, this would be our top gift. All I ever wanted as a kid was one of those electric ride on cars – they were the coolest. Should someone feel inclined, we're in LOVE with this double ride on (with seat belts) Peg Preggo Polaris.
The all-new Polaris Ranger RZR 900 is the perfect riding vehicle for kids who want to have fun! They'll drive around the yard in their own RZR, hauling everything imaginable in their large sport bed with tie-down anchors. Foot pedal with automatic brakes. The 2-speed shifter with reverse allows them to drive at 2½ or 5 mph on grass, dirt or hard surfaces. Parents will appreciate the adjustable bucket seats and the 5 mph lockout that prevents beginners from going too fast. 1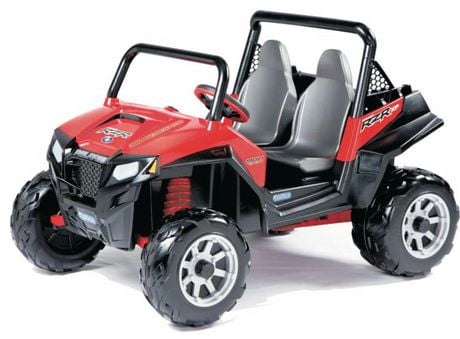 With two boys and a lot of crap to haul around, we asked for this red Radio Flyer Wagon last year and have been in love. It's perfect for bringing to parks, picnics, and even for a spin around the block.  We really love the protective cover to keep the boys safe from the sun, and the storage compartment under the seats make it easy to pack snacks and drinks.
he Radio Flyer Deluxe All-Terrain Family Wagon is designed with air tires for a smooth ride, and a UV blocking canopy for sun protection. With features that make it a very versatile wagon, there is endless fun. The 5 seating and storage options include: 1. seating for two, 2. flatbed, 3. covered storage & ride, 4. activity surface, and 5. XL storage & ride. The wagon also features seatbelts for safety, child and adult cup holders, and a fold-over handle for easy storage.